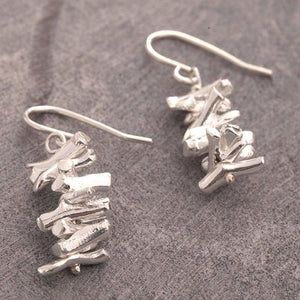 Coral Elements Silver Drop Earrings
---
---
Detailed Description:
These Coral Silver Drop Earrings are an Otis Jaxon signature design. Tiny elements, cast originally from pieces of natural coral, are layered on a vertical post. A delightful design, inspired by nature.
Also available are matching Necklace and Bracelet.
If you would like these Coral Silver Drop Earrings in a gold or rose gold finish, please call us and we will offer this bespoke service.
Made from:
Sterling silver.
Measurements:
Earring length: approx. 3.5cm.