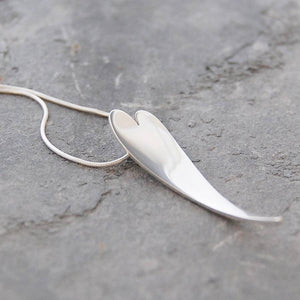 Large Curved Silver Heart Pendant Necklace
---
---
Detailed Description:
The flowing, stylized design could be seen to represent long lasting, sympathetic and flexible love. This Large Curved Silver Heart Pendant Necklace is crafted and finished to the highest standards. An Otis Jaxon 'classic'.
Shop the Heart Curve Collection
Made from:
Sterling Silver.
Measurements:
Large Pendant length approx: 4.4cm.
Our standard chain length is 16'' plus 2'' extension (41cm + 5 cm) - which makes the total length 18'' (46cm).