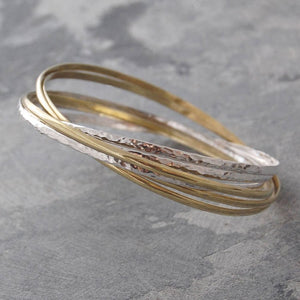 Gold and Silver Russian Bangle
---
---
Detailed Description:
Our Gold and Silver Russian Bangle is an all time classic best-seller this stunning design is actually created with six interlocking bangles - three in sterling silver and three with a golden hued bronze - each with an alternately smooth or hammered finish.
This bangle is also available in silver along with other sizes of Russian Ring: Russian Collection.
Available with either a 60mm (Small) or 65mm (Large) diameter.
Made from:
Sterling silver and bronze.
Measurements:
Bangle diameter: approx. either 6.0cm or 6.5cm.