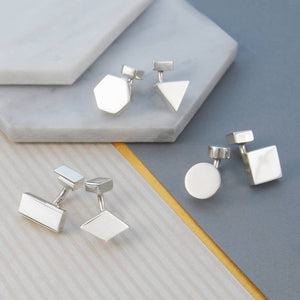 Gold Mismatched Cufflinks
---
---
Detailed Description:
These men's Gold Mismatched Cufflinks come in array of quirky geometric shapes, adding a fashionable and innovative edge to any suit. Shapes available are: Round/Square/Traingular/Diamond/Hexagon.
If you would like these Mismatched Silver Cufflinks in rose gold finish, please call us and we will offer this bespoke service.
Made from:
Sterling silver and 18k gold plating. 
Measurements:
Cufflink diameter: approx. 1.0 - 1.5cm.