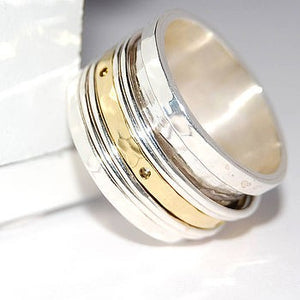 Hammered Spinning Silver and Gold Ring
---
---
Detailed Description:
A hand fashioned sterling silver ring is encircled with moveable silver and brass patterned bands which are impossible not to fiddle with! A best-selling design! This Hammered Spinning Silver and Gold Ring is also available in large sizes making this an unusual Silver and Gold Ring for Men.
Shop Spinning Rings and Bangles
Made from:
Sterling silver and brass.
Measurements:
Ring height: approx. 1.3cm