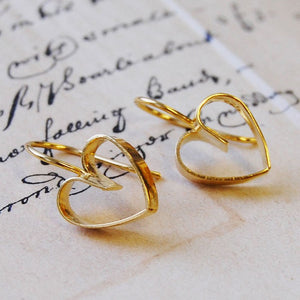 Lace Gold Heart Earrings
---
---
Detailed Description:
In these Lace Gold Heart Earrings a flat eighteen carat gold plated sterling silver wire is carefully and creatively fashioned into the shape of a heart and cleverly suspended from a sterling silver gold plated hook.
These Lace Gold Heart Earrings are also available in Silver and Rose Gold vermeil.
In this range - Lace Gold Heart Pendant Necklace.
Made from:
Vermeil - 18 carat gold plated onto sterling silver.
Meaurements:
Drop earrings dimensions: approx W1 cm X H1.4cm.
Pendant dimensions: approx W1.2 cm X H1.4 cm.
Our standard chain length is 16'' plus 2'' extension (41cm + 5 cm) - which makes the total length 18'' (46cm).