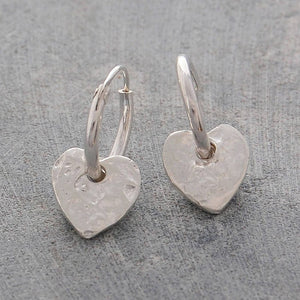 Organic Silver Heart Hoop Earrings
---
---
Detailed Description:
An incredibly simple and beautiful pair of solid silver earrings. These Organic Silver Heart Hoop Earrings are composed of a pair of dainty organically textured hearts suspended from elegant silver hoops.
Shop the Cast Heart Collection
Made from:
Sterling silver and 18k yellow gold plating. 
Measurements:
Hoops diameter: approx. 1.8cm.
Heart Width: approx. 1cm.
Earrings length: approx. 2.5cm.