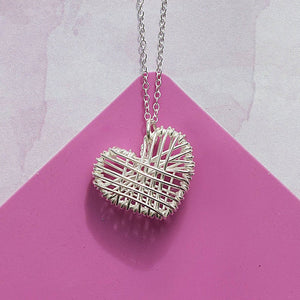 Small Woven Silver Heart Pendant Necklace
---
---
Detailed Description:
This silver necklace features a delicate crocheted wire wrapped heart pendant, handmade literally by 'weaving' sterling silver wire around a heart-shaped frame. Unique and feminine, this necklace will compliment any outfits!
If you would like this Woven Silver Heart Pendant Necklace in gold or rose gold finish, please call us and we will offer this bespoke service.
In this range - Woven Heart Silver Stud Earrings, Silver Woven Heart Drop Earrings, Silver Woven Heart Long Drop Earrings.
Made from:
Sterling silver.
Measurements:
Small Pendant Size Approx. 1.7 cm x 2 cm

 Chain length: 41cm plus 5cm (2'') extension