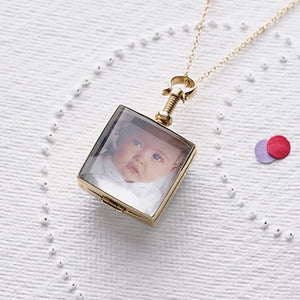 Square Gold Locket
---
---
Detailed Description:
This beautiful Square Gold Locket holds a small memorial or keepsake for your loved one to cherish. Add photos, a lock of hair or a secret love note - it's made to hold special things.
This Square Gold Locket is also available in silver and rose gold plated.
Shop the Personalised Collection
Made from:
18 carat gold plated onto sterling silver.
Measurements:
Dimensions of Locket: approx. 2.2cm X 2.2cm.
Our standard chain length is 16'' plus 2'' extension (41cm + 5 cm) - which makes the total length 18'' (46cm).