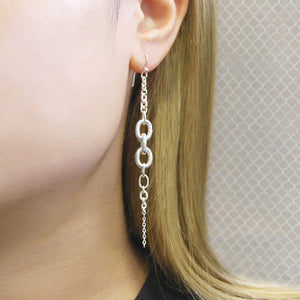 Multi Chain Silver Drop Earrings
---
---
Detailed Description:
These stunning sterling silver Multi Chain Silver Drop Earrings are really very special silver earrings. Each individual jump ring is hand soldered and then expertly hand polished with great care. A great deal of craftsmanship and love are devoted to each one of these earrings, and this love and care coupled with their statement look, makes them one of our favourite ever designs.
These Multi Chain Silver Drop Earrings are also available in and gold and rose gold vermeil.
Made from:
Sterling silver.
Measurements:
Earrings dimensions: total length approx 8.5cm. Largest link width approx. 0.8cm.