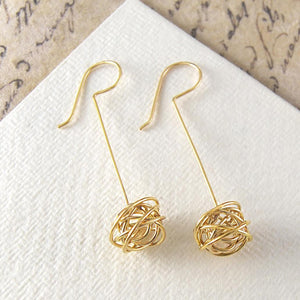 Nest Gold Drop Earrings
---
---
Detailed Description:
In these Nest Gold Drop Earrings fine silver wire is gold plated and wrapped in a seemingly haphazard fashion into a delicate gold nest. Elegant, contemporary drop earrings to die for.
The treatment of the gold plated wire in these Nest Gold Drop Earrings is totally unique in each creation.
Made from:
18 carat gold plated onto sterling silver.
Measurements:
Drop earring length: approx. 4.5cm. Ball diameter approx. 1cm.