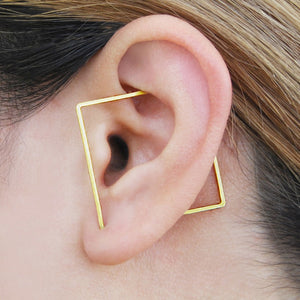 Square Gold Ear Cuffs
---
---
Detailed Description:
These Square Gold Ear Cuffs are a modern on-trend innovative design ingeniously blending earring and ear cuff to give you a geometric designer look without the pain of multiple piercings!
Up your ear game and mix and match different shapes for a really edgy style statement, or wear a pair as conventional drop earrings for a more classic approach to the design. Available singularly or as a pair.
These Square Gold Ear Cuffs are also available in a silver or rose gold finish.
Made from:
Vermeil - 18 carat gold plated onto sterling silver.
Measurements:
Earring Dimensions: approx. H3.0cm x W3.0cm