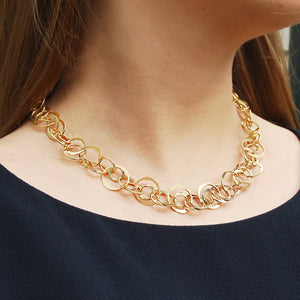 Planet Gold Statement Necklace
---
---
Detailed Description:
Gold plated sterling silver hoops of varying sizes and reminiscent of the rings of the planet Saturn are linked to make our Planet Gold Statement Necklace.
If you would like this Planet Gold Statement Necklace in a rose gold finish, please call us and we will offer this bespoke service.
In this range - Planet Contemporary Silver Necklace.
Made from:
Vermeil - 18 carat gold plated onto sterling silver.
Measurements:
Necklace length: Choose between 40.7cm (16") or 45.7cm (18").