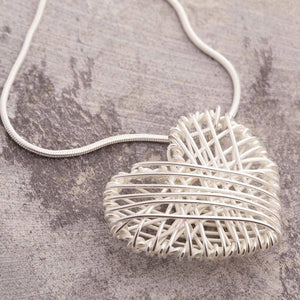 Woven Silver Heart Pendant Necklace
---
---
Detailed Description:
Incredible skill and attention to detail are required by the crafts person to bring this Woven Silver Heart Pendant Necklace to life. And yet Alberto - the silversmith - maintains a consistency of form and pattern throughout.
In this range - Woven Heart Silver Stud Earrings, Silver Woven Heart Drop Earrings, Silver Woven Heart Long Drop Earrings.
Made from:
Sterling silver.
Measurements:
Pendant width: 2.2cm.
Our standard chain length is 16'' plus 2'' extension (41cm + 5 cm) - which makes the total length 18'' (46cm).